Rob misses his flight due to the new modern scale and check-in system at Heathrow Airport. They're doing a little extra math, adding phantom kilograms to his luggage. Ultimately, Rob is correct and British Airways is at fault. But do companies like these truly care? Evidently not. What a shame.
On the positive side, I get an extra day in Ulaanbaatar. As a regular peak-bagger does in such situations, I check the map for prominent peaks. To my surprise, I spot a peak with 648 meters of prominence just a few kilometers south of Ulaanbaatar. Further investigation reveals several different routes to it. One is directly from the city on the north side, another from the west side, and another from the south. I find the last one most interesting due to the Mañjuśrī monastery at the trailhead.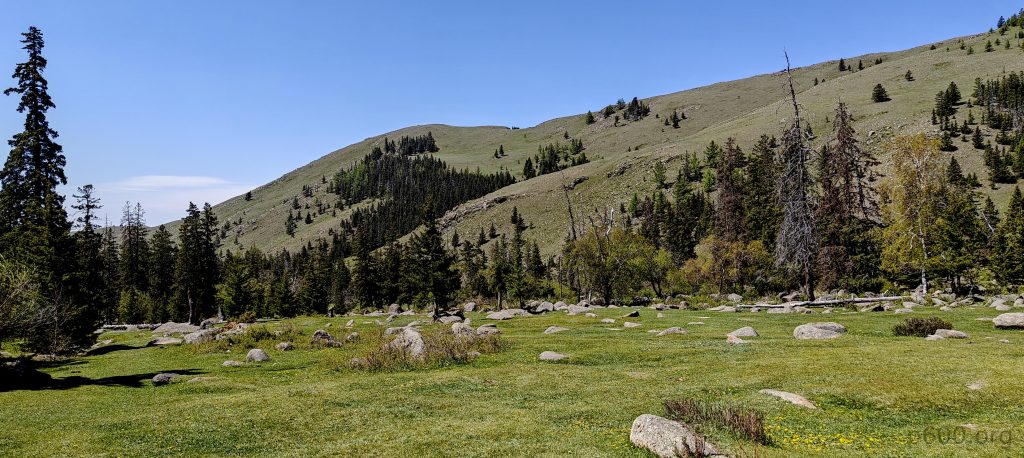 Anyway, I call Chegi, who drove me from the airport earlier today and later to the Chinggis Khan statue, and ask if he can drive me to the south side of Tsetseegün Uul tomorrow. He responds positively. Half-jokingly, half-seriously, I invite him to join me on the hike, and to my great surprise, he says, "Yes, I will hike with you." It's wonderful to have company on my first peak in Mongolia.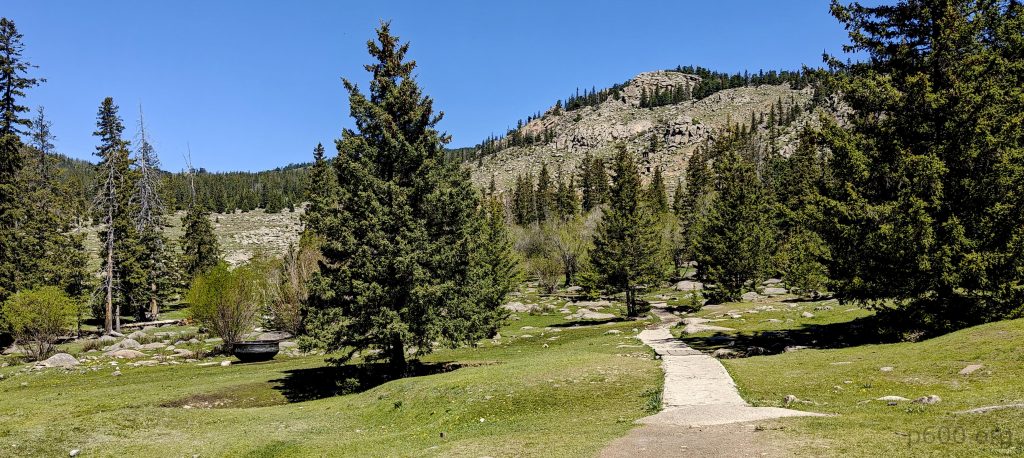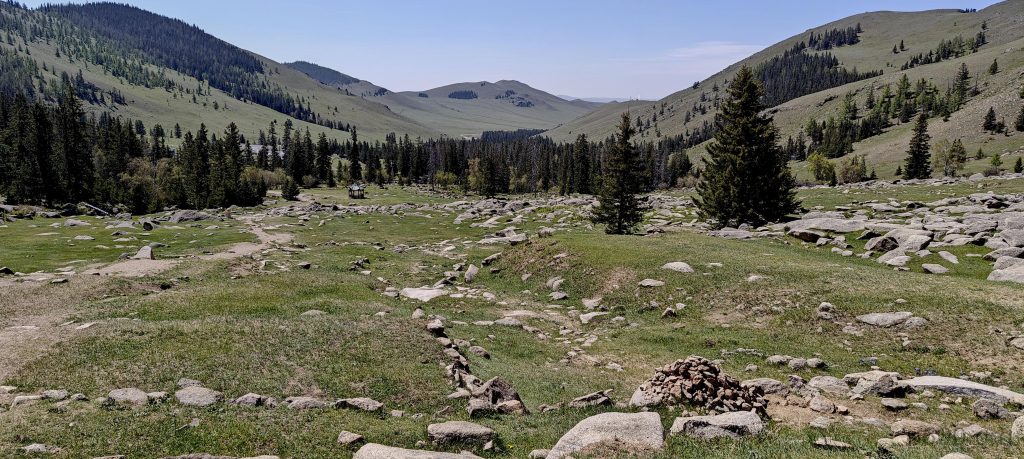 We meet in the morning and drive south. The problem isn't the 50 km drive; the challenge is getting out of Ulaanbaatar. The streets are nice, wide, and straight, but the traffic jams are terrible. It takes us more than an hour to get out from the infinte labyryinth of Toyotas. Finally, we're out, and soon we arrive at Zuunmod town. We drive a few more kilometers before stopping in a large parking area.
After changing into our hiking attire and shoes, we begin our trek. A short distance away on the slope lies the Mañjuśrī monastery, a former gompa (a term used to describe a Tibetan Buddhist place of learning or meditation). Established in 1733, it was sadly destroyed by Mongolian communists in 1937. Nonetheless, it remains captivating. There are remnants of old structures, a newly erected building, and several monks seated in front, with birds fluttering around them.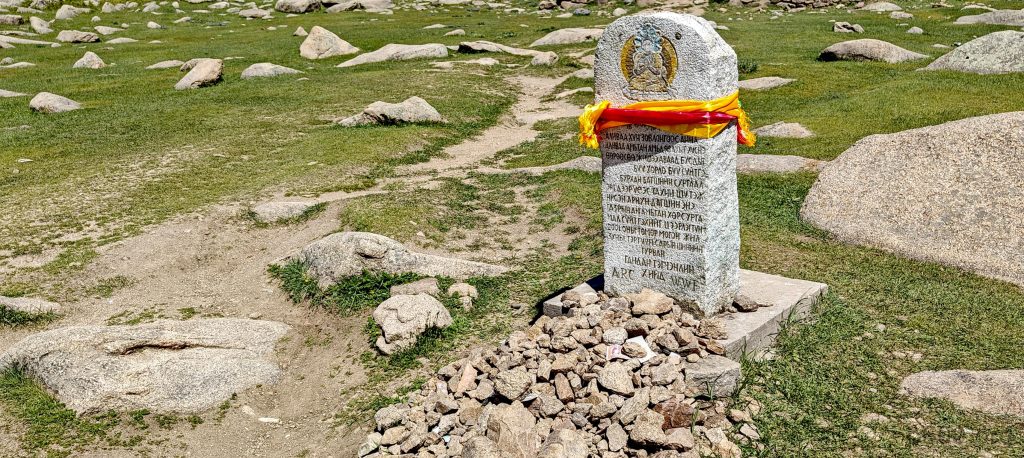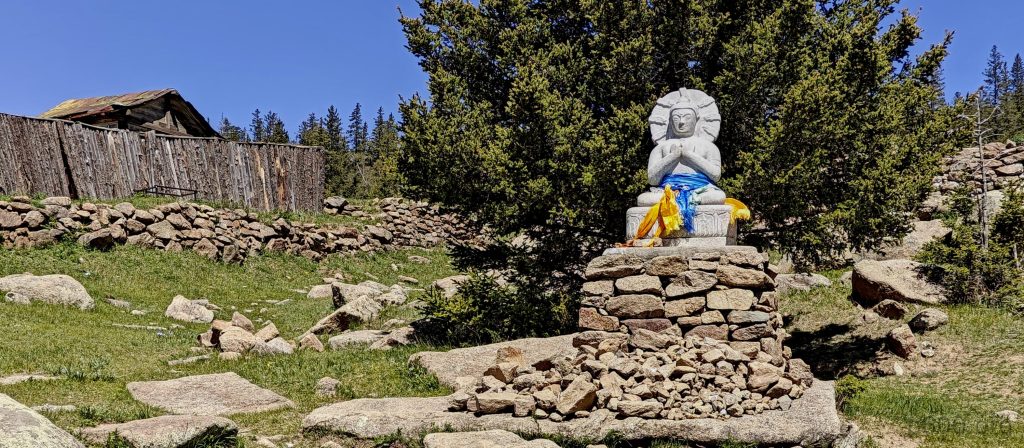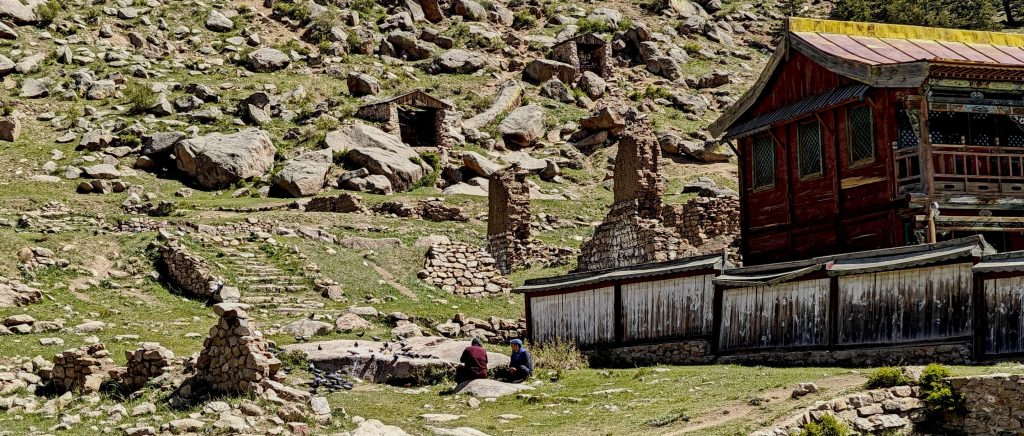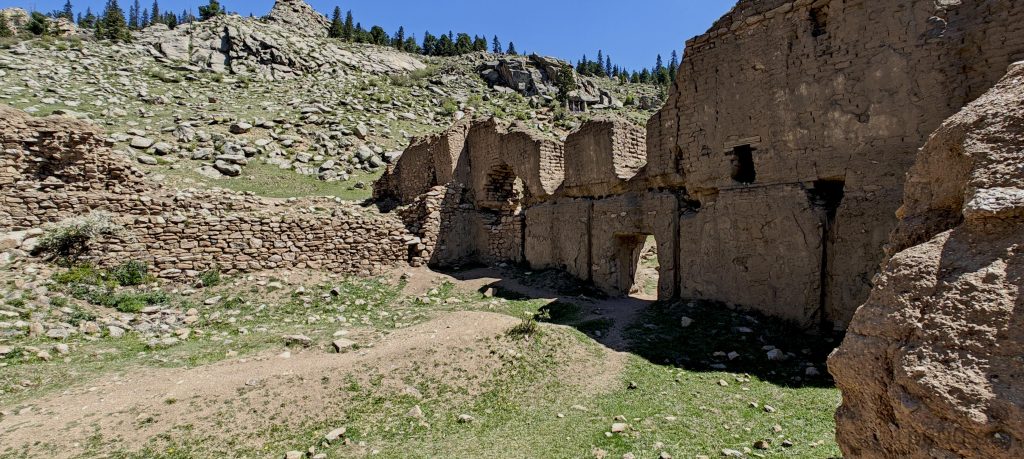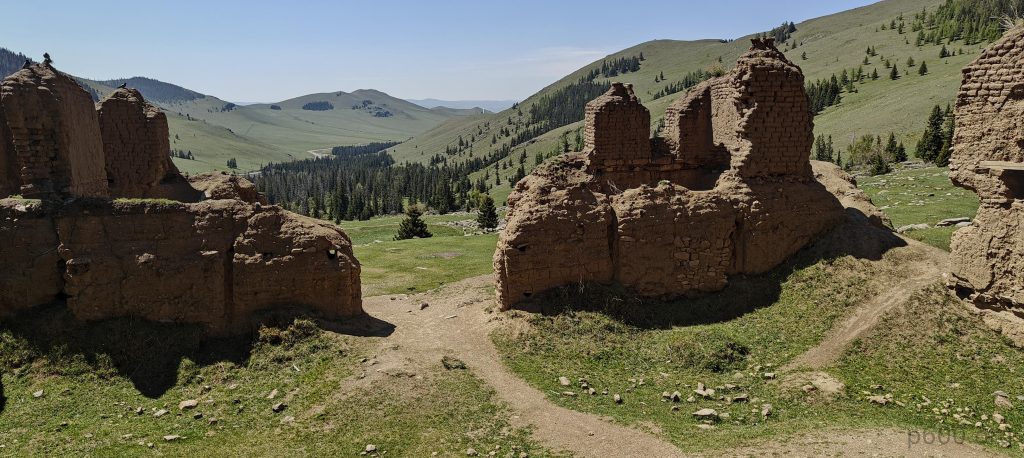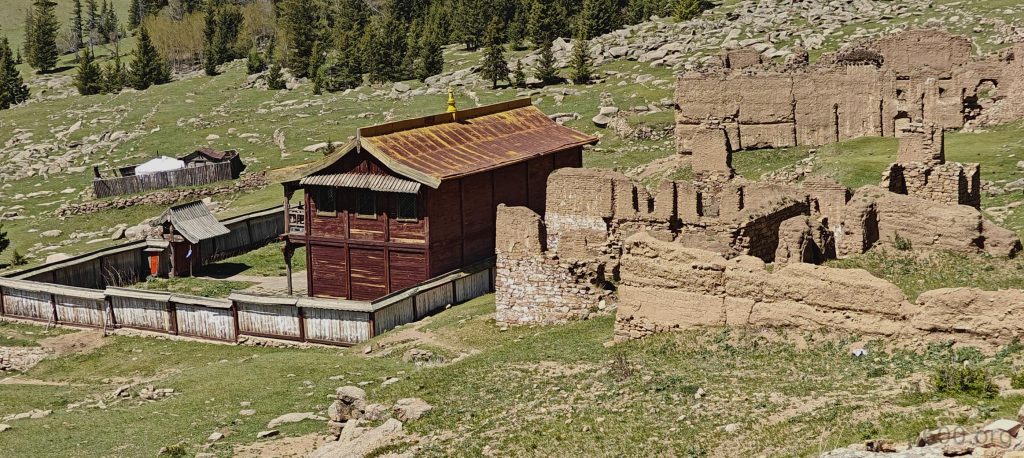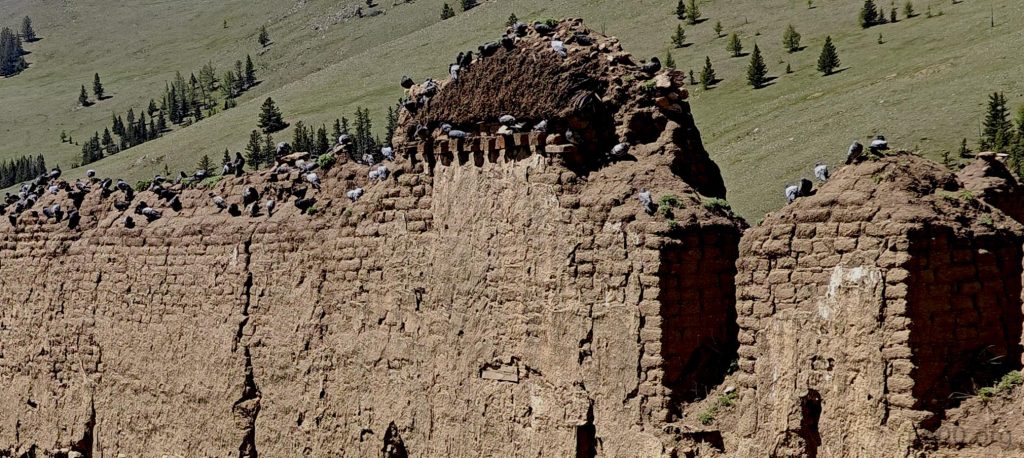 From the monastery, we traverse the slope to the right, opting for a shortcut to the official trail. The majority of our hike is under the canopy of pine trees, making for a delightful journey. Some sections of the trail are damp and muddy, but we can always find a way around these areas. As we approach the summit, the forest gives way to expansive open fields.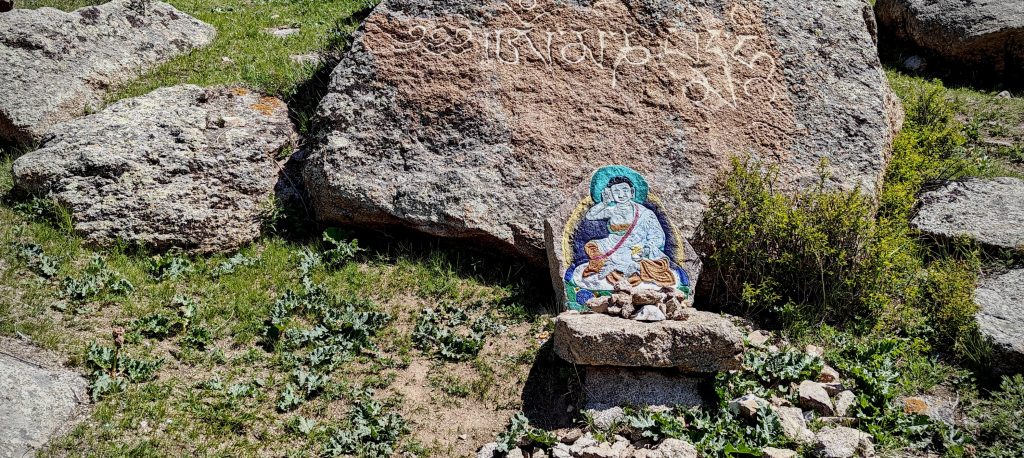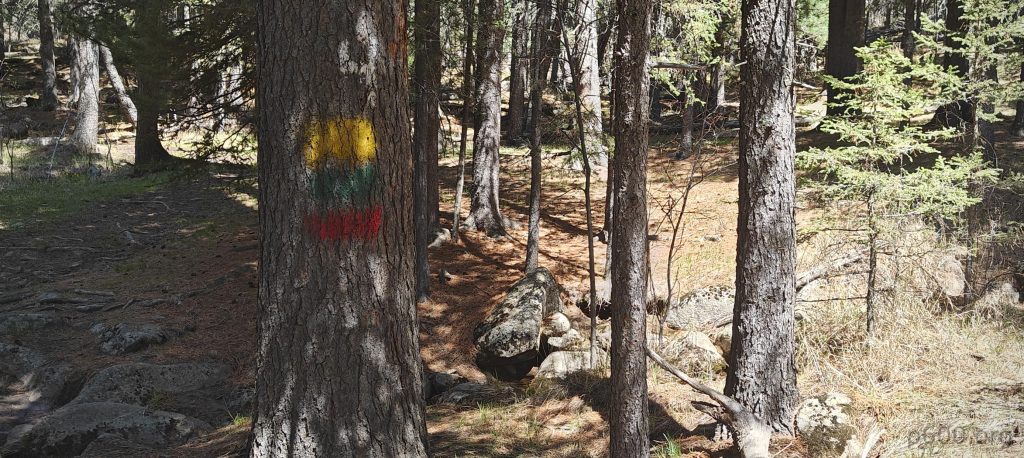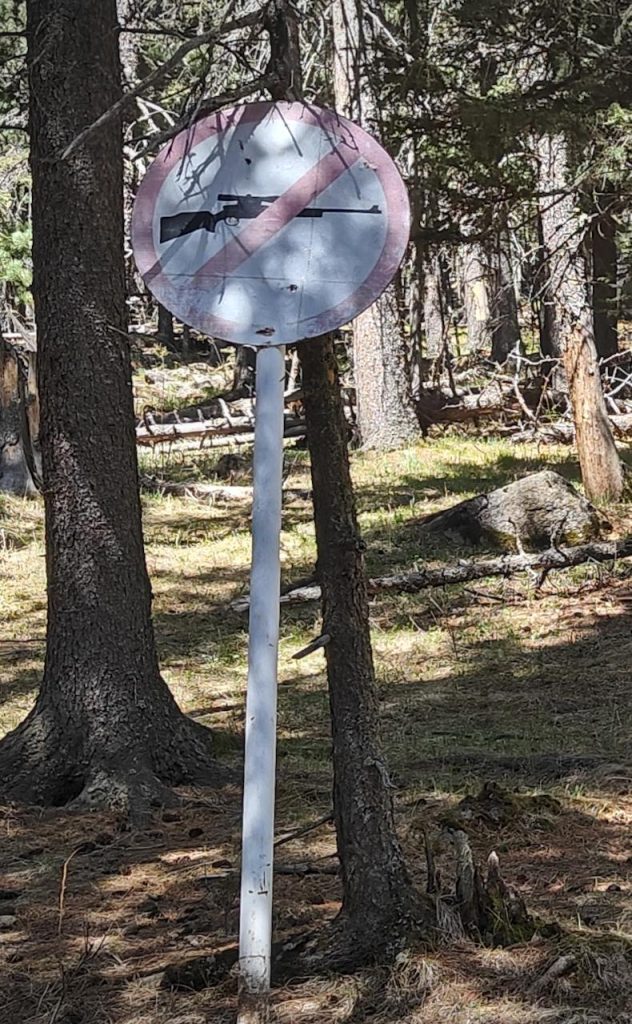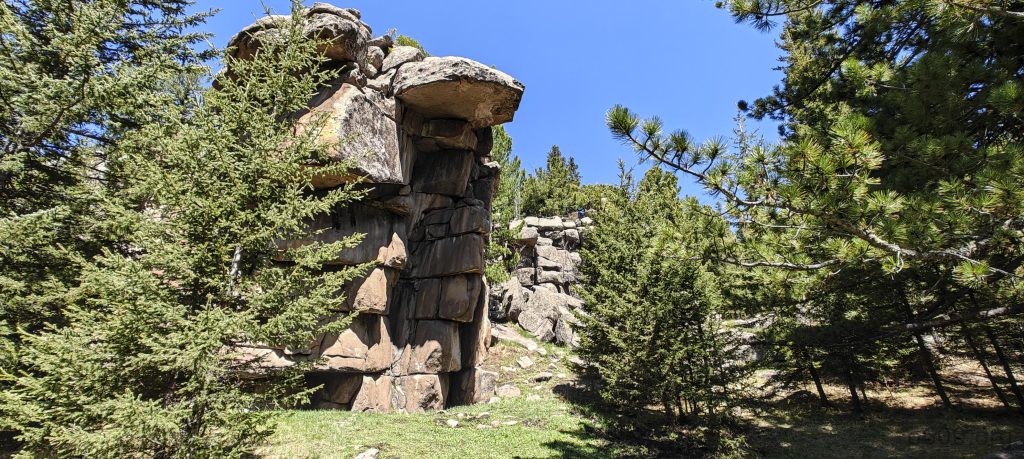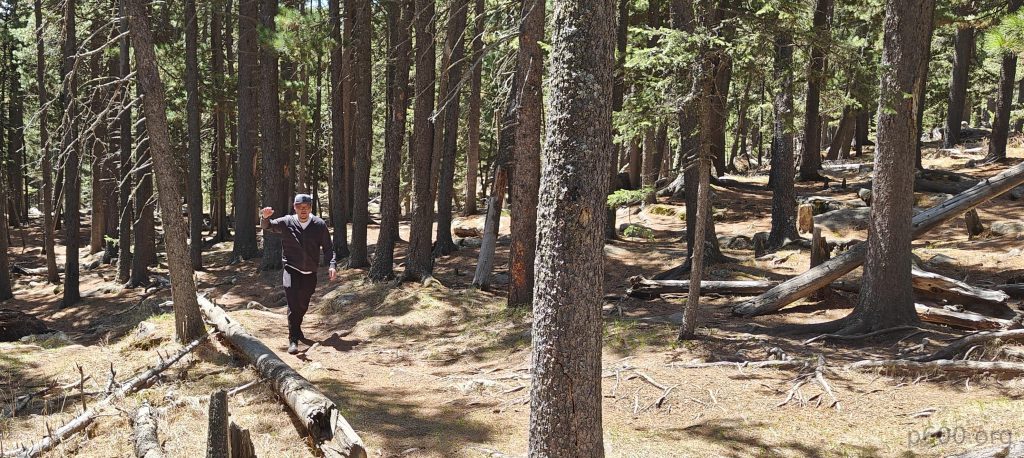 As I near the summit, I'm initially puzzled about how I'll navigate the ten-meter rocks crowning the peak. But upon closer inspection, it's clear that they're less daunting from the opposite side. Even so, a few sections require Class 3 or Class 4 climbing moves.
I first tackle the slightly lower west rock from its rear side. After climbing it, I make my way to the southeast rock and find the ascent relatively straightforward. But soon enough, I discern that the true highest point is the north rock. From the front, it presents quite the challenge. I attempt to locate a route from the left rear, but it doesn't seem promising. Switching tactics, I circle to the rock's right rear side, navigating through a stretch of boulders. After identifying passages that lead to the taller rock structures, I finally make it to the summit. The climb isn't excessively difficult, but there are moments where a misstep could lead to a precarious fall.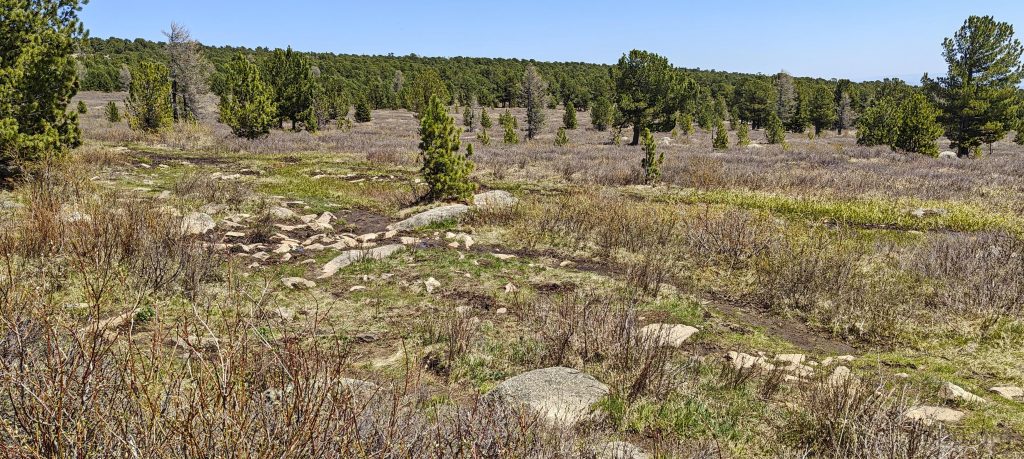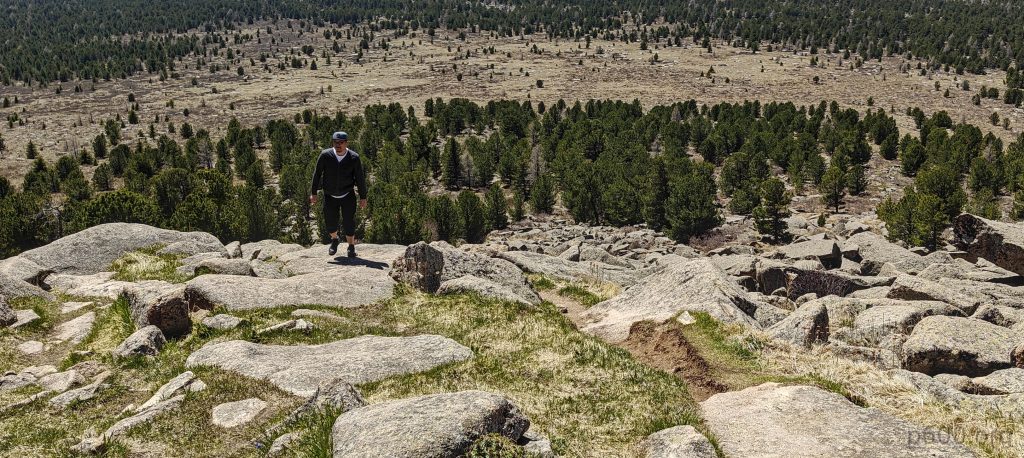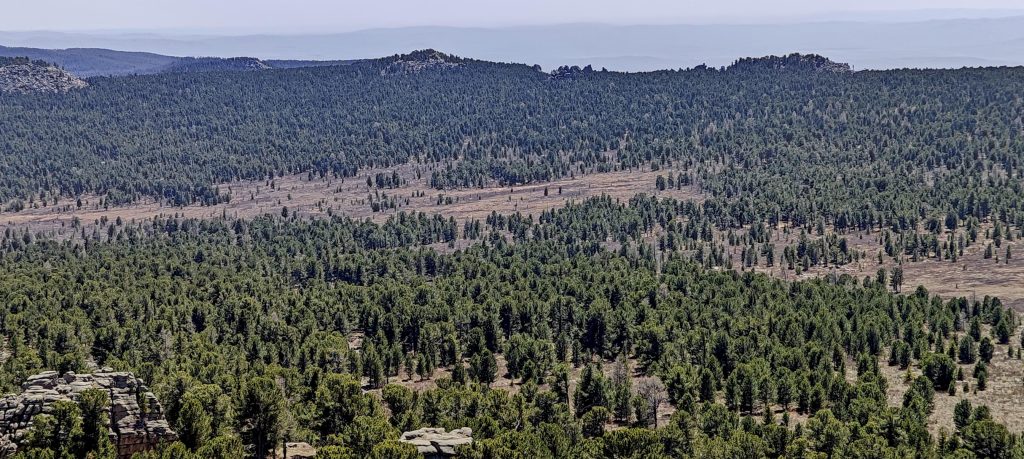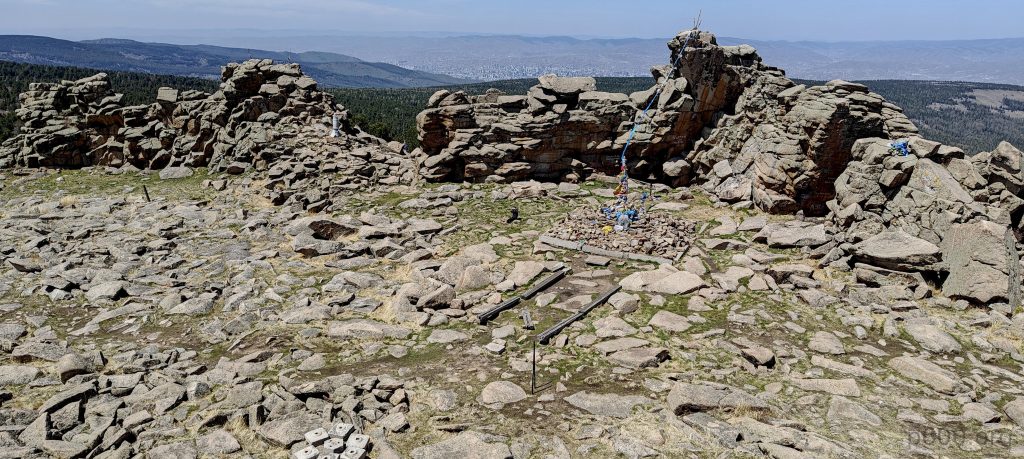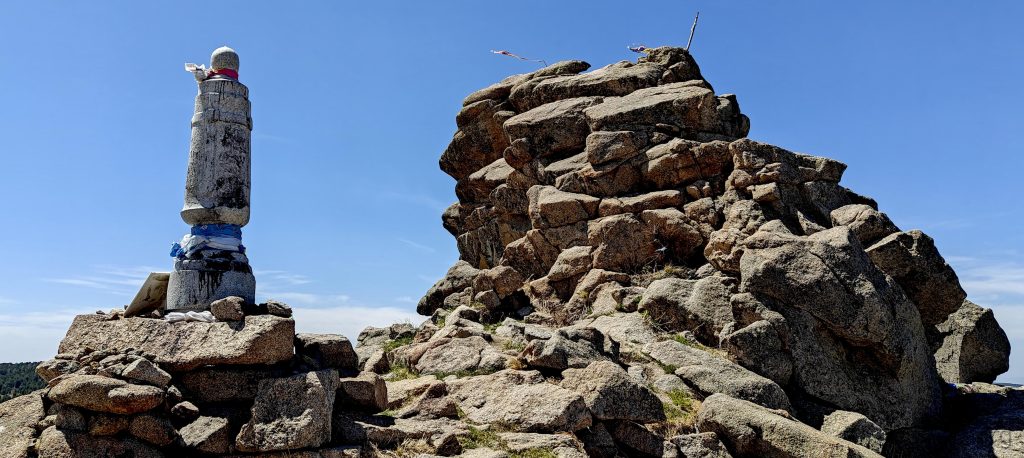 The summit is adorned with poles and Tibetan-style flags. A string connects the peak to a shrine below. I'm curious about the cultural and spiritual significance behind these markers. From a slightly lower plateau, Chegi offers his greetings.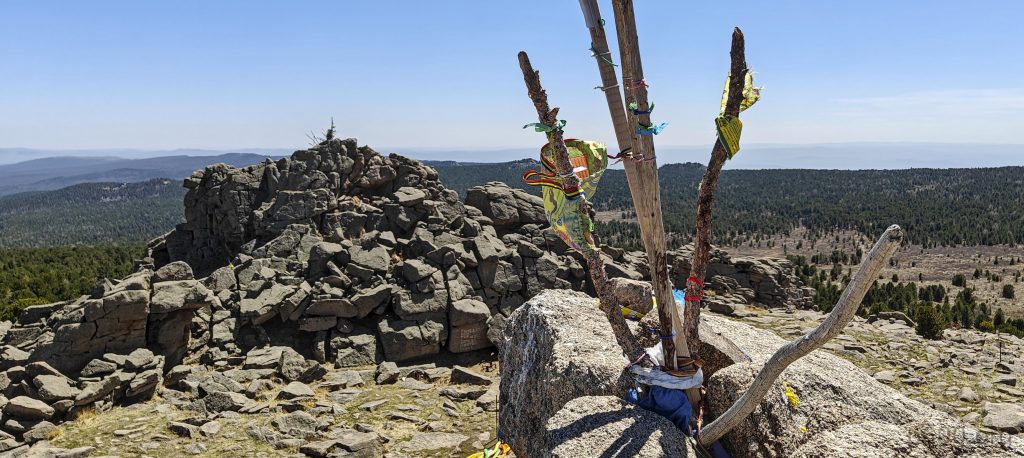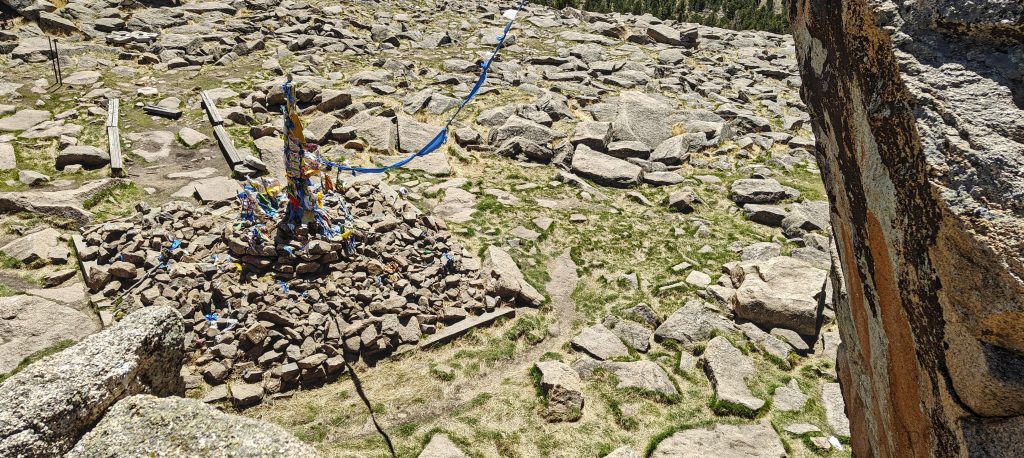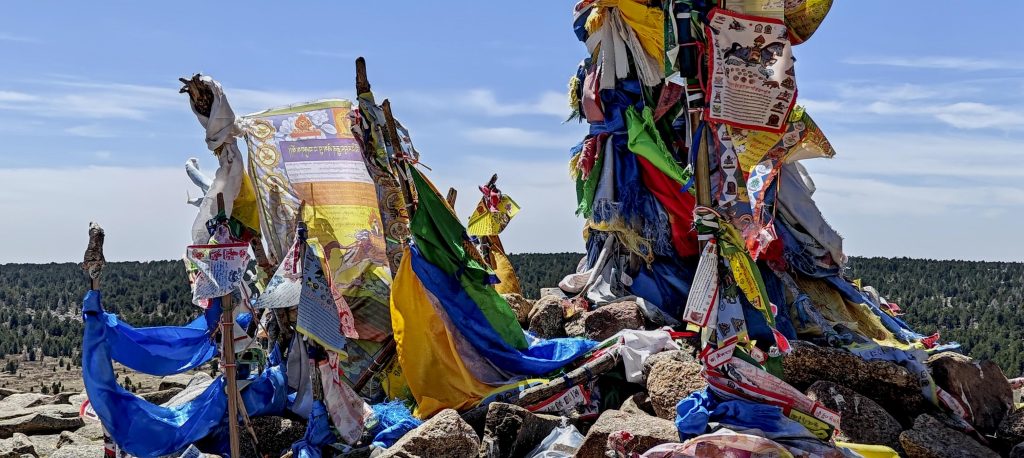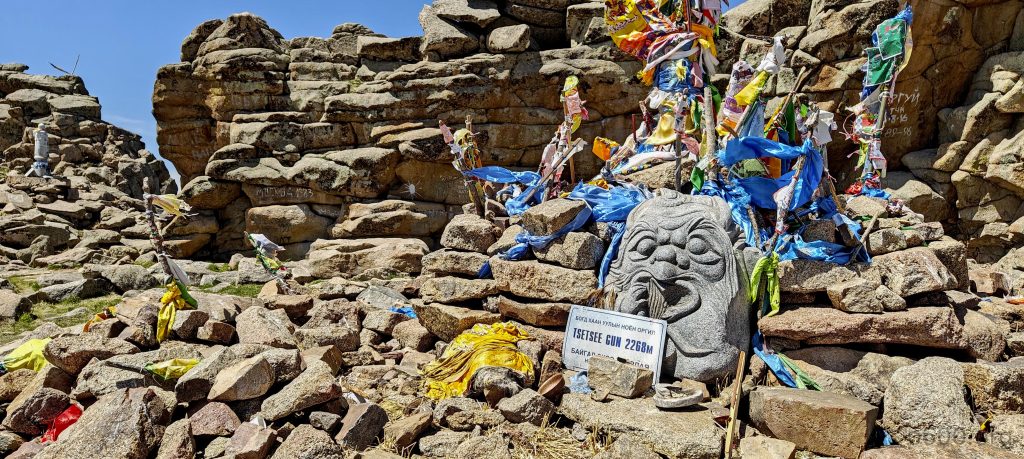 After a brief rest, we start our descent. I don't have a hand level implant, and there's a niggling doubt that the peak about half a mile southwest might be of the same height. It seems unlikely, but appearances can sometimes deceive. To put my mind at ease, we make a slight detour to determine the highpoint of this neighboring peak. This endeavor isn't straightforward; the summit is relatively flat and blanketed by a forest. Figuring out which rock or mound is even a few centimeters higher than another is tricky. Still, I trust the contours on the topo map, and, based on my best judgement, I call a pile of stones that appears to be the highest point. Satisfied, we then cut a direct path back to the main trail.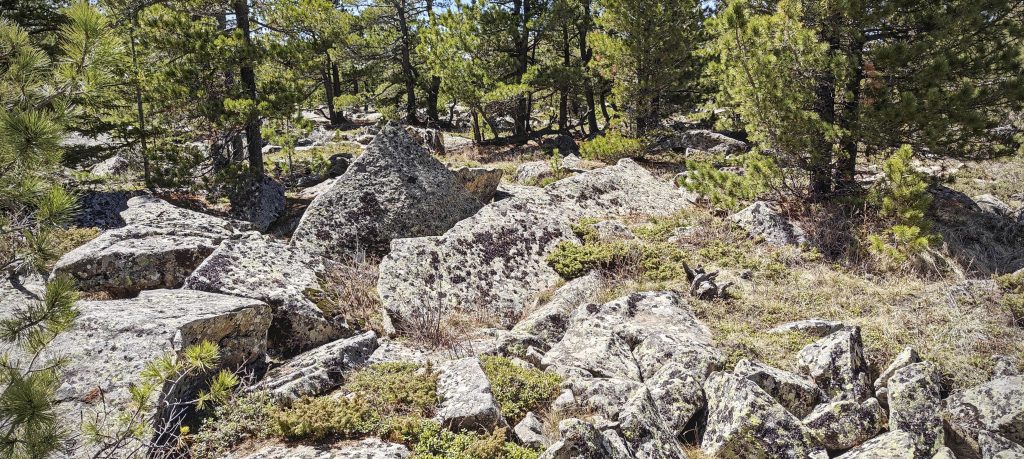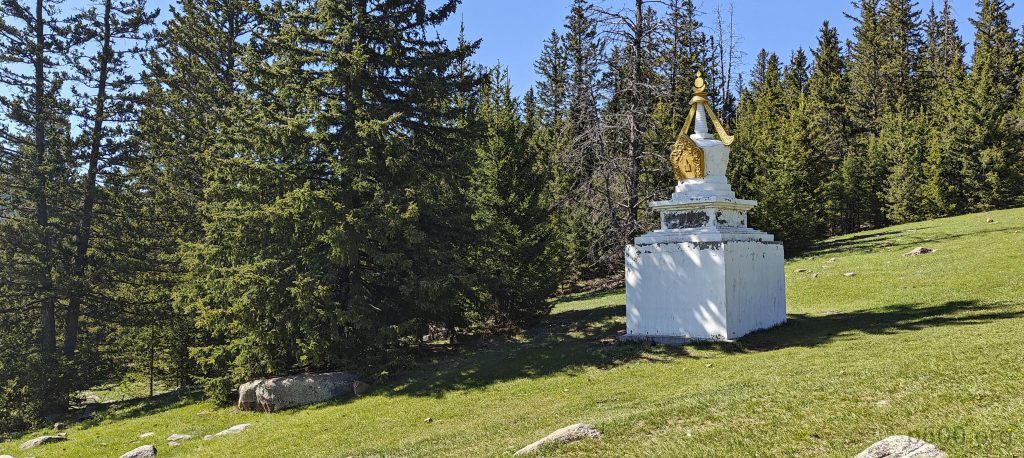 Descending under the comforting shade is effortless, and before long, we are at our car. This marks my first Mongolian P600 peak, and the hike is truly delightful. Time flies quickly as my conversations with Chegi provide insights into local life and culture. Later in the evening, I take a brief stroll through Ulaanbaatar, rounding off the day with a delicious dinner at Route 22 restaurant. Today is memorable, and I hope that tomorrow morning, I meet Rob. Together, we continue our journey toward Dund Sayhni Nuru in the southern part of the country.