The main objective of this trip is to climb five peaks out of the world's top 100 by prominence. At least eleven peaks on this list are located in the Malay Archipelago. We arrive in Jakarta, fly to Bali the next morning, take a short relaxing break in the hotel, and after midnight start climbing Gunung Agung, the island's highest point. Memorable sunrises and warm welcomes by the locals.
We spent less than 24 hours in Bali and are now moving forward. We took the ferry to Lombok and were ready the next day for a two-day hike to Gunung Rinjani, the island's highest point. Rain, monkeys, and hundreds of other hikers—but what a lovely and easy walk down the volcanic ash slopes!
The next two peaks are located on Java Island. Surprisingly, this is my second visit to Surabaya airport this year. From there, we drive towards Gunung Lawu. easy and wide trail, unspoiled nature, a brigade of students, and tasty mango on top. We drove towards Gunung Slamet later that day. Heavy rain, clouds—in short, a proper good hike.
Unfortunately, Gunung Semeru and Gunung Raung were too active at this time, and we postponed climbs to both peaks. Instead, we flew to Sumatra and climbed the island's high point, Gunung Kerinci. Hospitality, cinnamon trees, monkeys, theoretical tigers, and volcanoes welcome us with unusual activity. I was trying to wash ashes from my clothes for the next couple months. A very memorable hike!
We also found time to take a pleasant walk on the Lombok coast and enjoy the sunset from the Bukit Bongo cliffs. Relaxing walk on the grassy peninsula, which is located just next to the grand prix racing facility.
Finally, we had many interesting moments while driving through Bali, taking the ferry to Lombok, and then having a short sightseeing trip around the island. Traveling in Java was not boring at all, and we will remember the more authentic Sumatera Barat for a long time. Tasty and spicy food I will remember even longer.
Something comes to an end, and something new begins. Dave is going home, and a half-hour later, I'm meeting Rob in Padang. Malay Archipelago III is a new trip with slightly different objectives, but of course we will keep climbing.
Andri from Adventure Indonesia solved many logistics issues and organised many things. Everything went smoothly, including last-minute changes and re-arrangements. Thanks for this! Also, special thanks to Aris, Agus, Abdul, and everyone else who helped us a lot and kept us in good spirits during the climbs.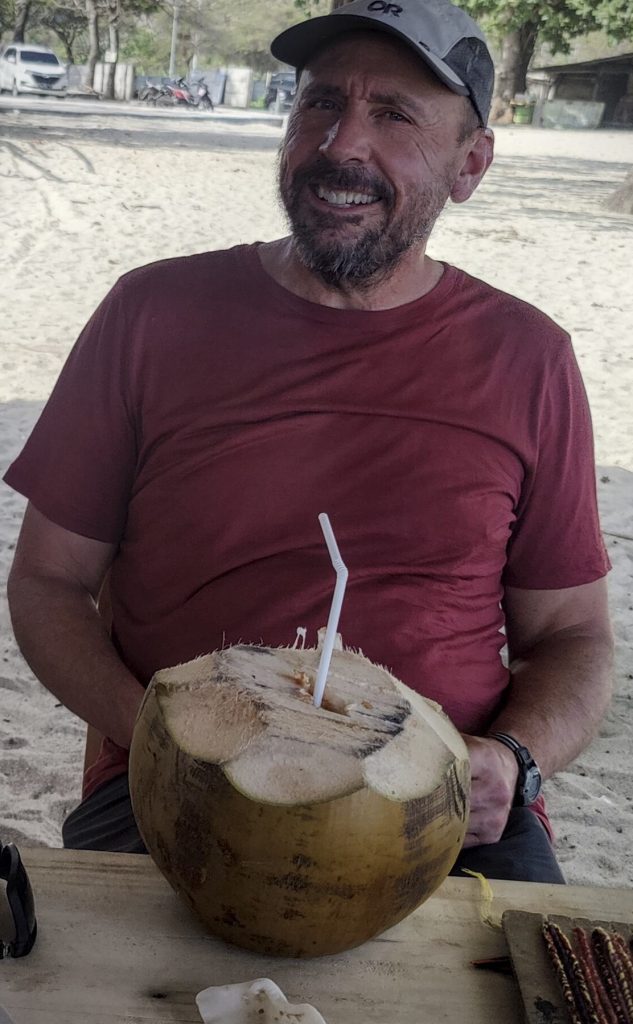 ranges

altitude

prominence

isolation

distance

elevation gain

time

Gunung Kerinci
Sumatra

3805 m

3805 m

1904.03 km

13.6 km

2055 m

27h00

Gunung Slamet
Java

3428 m

3284 m

419.06 km

11.8 km

1728 m

11h05

Gunung Lawu
Java

3265 m

3118 m

126.18 km

18 km

1342 m

7h30

Bukit Bongo
Nusa Tengarra

59 m

39 m

- km

2.6 km

58 m

0h55

Gunung Rinjani
Nusa Tengarra

3726 m

3726 m

1600.66 km

32 km

2684 m

26h15

Gunung Agung
Nusa Tengarra

3031 m

3031 m

103.98 km

8.5 km

1499 m

8h55

86.5km hiked and 9366m elevation gained in 81h40