The main objective of this trip is to climb five Moroccan ultrapeaks. This trip worked well in combination with a Iberian Peninsula trip. The easiest and most reasonable flights were from Madrid. We took one of them and arrived at Marrakech airport in the afternoon. After a few hours of driving that evening, we slept at Ijoukak village, not far from the Jebel Igdet trailhead.
The next day, after our climb and short stop at Tinmal Mosque, we drove to Imlil village, which is a base camp for people willing to climb the highest point in Morocco and the Atlas Mountains. After a two-day hike to Jebel Toubkal, we drive a few hundred kilometres to the next ultrapeak.
From the village of Agouti, where we slept, to Irhil M'Goun it was again a two-day hike, so lovely that one could spend days exploring infinite valleys and ridges.
Then again, it was a long, almost six hundred kilometre drive to the northwest, towards Adrar Bou Nasser peak. We stay a dozen kilometres from the trailhead in the town of Missour.
And finally, the last planned peak was located in the north, close to the Mediterranean, surrounded by hashish fields. Jebel Tidirhine turned out to be a relaxing walk in the shade of an old cedar forest. After the hike, we stayed in Ketama, where we had really good street food in the evening. After the last peak, we drove to Casablanca, and in the morning we flew to Spain for a new adventure.
Despite the fact that there were no bonus peaks planned, I managed to find one P600. Aghouri is located on the ridge that needs to be passed on the way to Irhil M'Goun. So, Said and I made a short detour and climbed it.
The planned schedule was quite busy; not many side sightseeing trips were involved. Interesting sighs we had at the Tinmal Mosque and views along the way. Obviously, the colorful Atlas Mountains need more time. There are many, many more valleys, creeks, ridges, and peaks to explore. The same can be said about the old and diverse Moroccan culture.
I would like to give a special thanks to Said, who helped organise the Atlas Mountains trip, ensure smooth logistics, and make sure that our plan went as expected. He is a truly professional mountain guide who knows his job and his country very well. Thanks! I'm proud to recommend him to anyone looking for help in Morocco.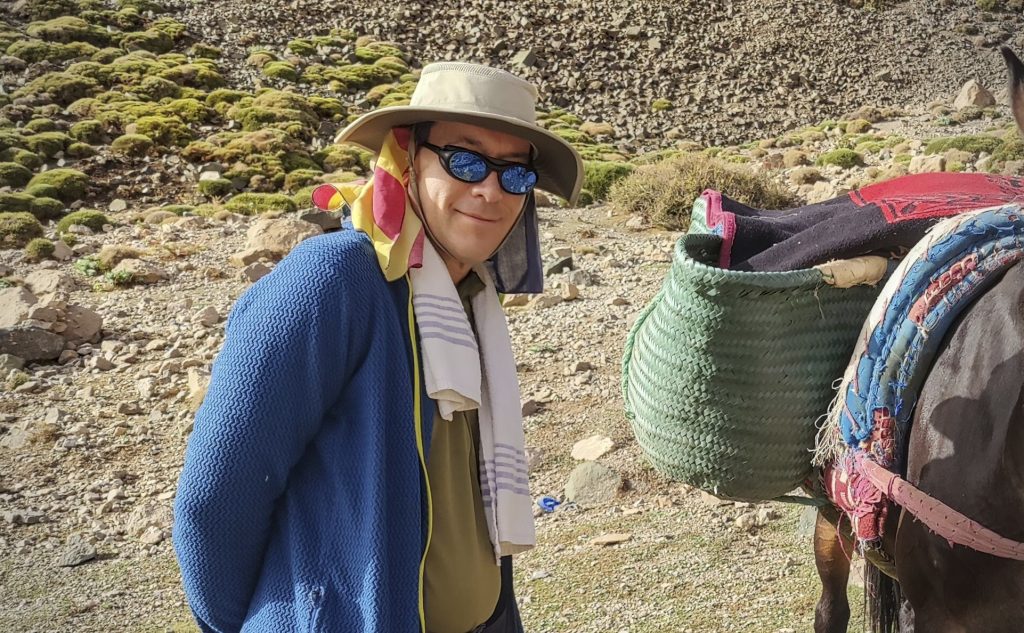 Done, next one…
ranges

altitude

prominence

isolation

distance

elevation gain

time

Jebel Tidirhine
Northwestern Atlas

2456 m

1901 m

130.82 km

8.4 km

608 m

4h00

Adrar Bou Nasser
Northwestern Atlas

3340 m

1642 m

147.59 km

13.2 km

1224 m

7h10

Irhil M'Goun
High Atlas

4071 m

1904 m

148.49 km

33 km

1312 m

12h50

Aghouri
High Atlas

3565 m

624 m

4.40 km

17.7 km

1639 m

9h15

Jebel Toubkal
High Atlas

4167 m

3755 m

2078.23 km

26 km

2243 m

27h00

Jebel Igdet
High Atlas

3619 m

1613 m

45.02 km

13.3 km

1447 m

8h35

111.6km hiked and 8473m elevation gained in 68h50