I didn't have a specific goal for this trip, but I did want to climb two unclimbed and remote P600 peaks in southern Scotland. So, after landing in London and meeting Arunas, we were on our way north. In the morning, we climb Merrick and a few more surrounding peaks. A memorable long day and enjoyable hike, with half the day spent on popular trails and the other half off trail, albeit a little wet, but that's the price. Not big, for such a nice experience.
The next day, we climb Broad Law because it is kind of on the way to the Grampian Mountains. Compared to yesterday's muddy walk, today's was relaxing and easy. Two isolated peaks were successfully climbed; on my next trip, I can concentrate on the north. Taktic worked well, which is good.
There are two more days left before Andes Trip, so I wanted to mock up some plans and found two peaks, none of them hard. On Monday, we climbed the snow-covered Beinn an Lochain. Amazing views and a pleasant hike On Tuesday, I walked to Loch Sloy and then climbed to the summit of Ben Vorlich. Peak is also covered with a few centimetres of snow, a nice message from Miss Winter.
At the very beginning of our journey to Scotland, close to Birmingham, we make a very short detour to Barr Beacon and enjoy a colourful sunset.
Very well spent time, nice hikes, and a reminder to me that there are more hills in Scotland. I'll plan a trip as soon as possible. For now, we are driving back to London, and tomorrow I fly to Salta, in Argentina.
I wanted to thank Arūnas in particular for providing transportation, recommending good photo stops, and reminding me that there was no need to rush. Thanks a lot!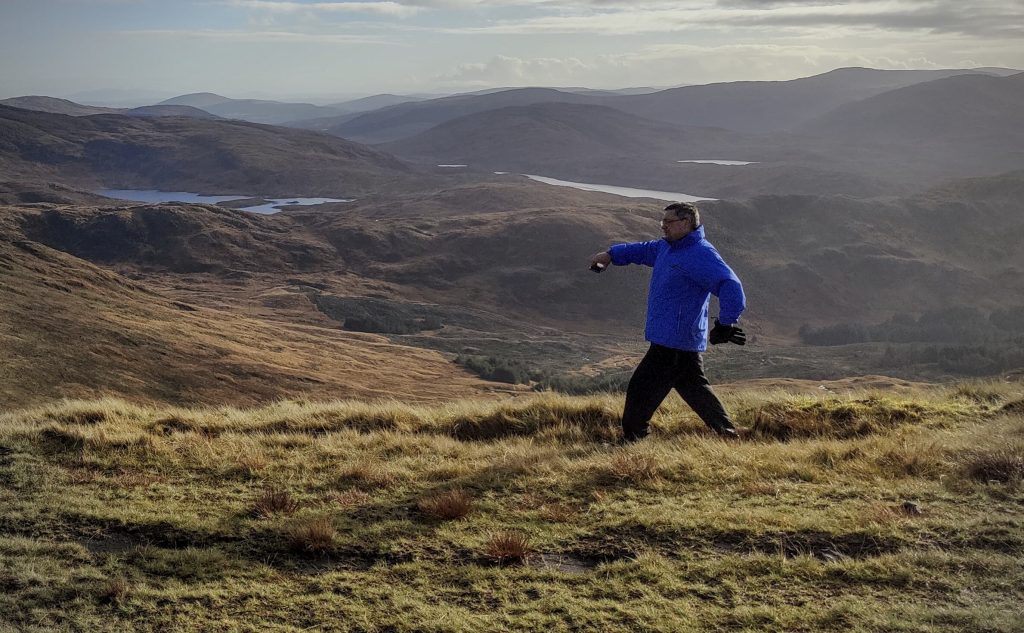 ranges

altitude

prominence

isolation

distance

elevation gain

time

Ben Vorlich
Great Britain

943 m

632 m

5.54 km

12.4 km

903 m

3h45

Beinn an Lochain
Great Britain

901 m

640 m

3.62 km

6 km

718 m

2h25

Broad Law
Great Britain

840 m

653 m

81.32 km

7.4 km

344 m

3h00

Merrick
Great Britain

843 m

705 m

- km

22.6 km

819 m

9h10

Barr Beacon
Great Britain

227 m

82 m

11.79 km

0.6 km

5 m

0h15

49km hiked and 2789m elevation gained in 18h35