In early 2023, I received an intriguing message from Dave. He was proposing a trip to the Philippines. With the knowledge that the Philippines boasts twenty-nine ultra-prominent peaks, my enthusiasm to agree was immediate. The allure was heightened by the fact that a significant number of these towering mountains also stand as island highpoints. Add to that an endless list of other captivating peaks, and there was barely a moment's hesitation before I responded affirmatively. The team, comprising Albert, Dave, Petter, Rob and myself, started syncing up. By mid-April, after much coordination, our plan was no longer just an idea but a well-defined adventure on the horizon.
The primary objective of this trip was to climb the ultra-prominent peaks in the Philippines range. While we initially had some ideas about which peaks to tackle first, our plans underwent multiple changes throughout the journey. New peaks were added, and some of the initially planned peaks were removed from the itinerary. This was primarily due to political circumstances and challenges in obtaining necessary permits. Even so, we were able to climb most of the summits we had originally aimed for. I believe this trip was highly successful despite the alterations and uncertainties along the way.
Day 1 – Travel to Begin Travel
As often happens, finding reasonably priced flights from London is easier than from other places. The journey begins with an easy and smooth budget flight from Vilnius to Warsaw (LO774). After a brief layover, I board another flight from Warsaw to London (LO281). Opting to save money, I decide to skip booking a hotel and instead spend the night at the less-than-appealing Costa cafeteria within one of the Heathrow terminals. The night passes quickly as I catch up on pending tasks using my computer.
Day 2 – Singapore Highpoint
I meet Rob at London Heathrow Airport. It's amusing to note that Terminal 2 has become our de facto standard meeting point. After a 13-hour and 20-minute journey from London, we touch down in Singapore (SQ305). The entire immigration and customs process is seamless and well-organized. Filling out the Covid forms feels a bit outdated, but it goes swiftly. With seven hours to spare, we see it as a golden opportunity to visit Singapore's highest point – Bukit Timah. While it's my second time, Rob embarks on his first ascent of the country's highpoint. Petter's plane lands an hour later, and he too decides to bag the country highpoint. After a successful ascent, we return to the terminal only to discover that two flights to Davao depart simultaneously but from different terminals. Due to a delay in our flight (SQ8566), Petter lands in Davao slightly ahead of us. Nonetheless, we all receive a warm welcome at Davao Airport by Albert, our guide, and are then transported to the Roger Inn Hotel in the city. The hotel is simple and unremarkable, but it offers good quality at an affordable price.
Day 3 – Towards Mount Apo
Mount Apo isn't just an ultra-prominent mountain; it's also the country's highest mountain and the highest point on the Mindanao island, making it of great significance to us. In the morning, Albert meets us again at the hotel, and we begin our journey from Davao towards Mount Apo. We quickly pass through Toril, Santa Cruz, and Digos cities. Our next stop is Kapatagan for a meal. In just a few hours after leaving Davao, we find ourselves at the trailhead, which is located just before Baroring village, ready to begin our hike to the camp.
Day 4 – Mindanao Island and Philippines Highpoint
Waking up before sunrise at the higher camp, we set out for the summit of Mount Apo. After successfully reaching the top, we made our descent back to the camp for some well-deserved relaxation. Later, we journeyed down to the trailhead where a car was waiting to take us back to our hotel in Davao. It was convenient to have left our excess bags at the hotel; they were right where we had left them, next to the reception desk, awaiting our return.
Day 5 – Samal Island Highpoint
It's a relaxed day with no rush. While our primary aim is to head towards Mount Matutum, we realize there's an opportunity for a quick side trip to Samal Island's highest point – Puting Bato. After discussing with Albert and the driver over breakfast at the hotel, we head to the ferry terminal. A short while later, we're on Samal Island. A brief drive and a quick walk later, we're at the highpoint. Having marked that achievement, we return to the ferry terminal and start the journey towards the Mount Matutum trailhead in the village of Glandang, north of General Santos. We spend the night in a simple hostel, which, while unremarkable, offers the unbeatable advantage of being right at the trailhead, setting us up perfectly for an early ascent of Mount Matutum the next day.
Day 6 – Restricted Mount Matatum
Before the first light of dawn, we set out and make our way to the summit of Mount Matutum, achieving this feat by noon. With the day still young, we seize the opportunity to make a quick side trip to Crocodile Hill, also known to locals as Piape Hill, given its closeness to Piape village. After our brief excursion, we head back to our now-familiar hotel in Davao, which has undoubtedly become our go-to accommodation in the city.
Day 7 – From Davao to Naga via Cebu
In the morning, we board a flight from Davao to Cebu, followed by another from Cebu to Naga airport. Interestingly, purchasing these two separate tickets turns out to be more economical than a single connecting flight. Upon touching down at the quaint Naga airport on Luzon Island, a brief taxi ride takes us to the Panicuason Hot Springs Resort, beautifully situated at the foot of Mount Isarog. We settle into a snug apartment on the property. The journey to the resort isn't straightforward, requiring an additional fee for the last stretch. Marketers, take note! If someone truly desires a product, they won't hesitate to pay even an entry fee to a shopping center to acquire it. It's an obvious choice. (Well, maybe not for us – we lingered at the gates until we could enter for free).
Day 8 – Mount Isarog and Hot Springs
Early morning motorbikes take us to the Mount Isarog trailhead, and while the climb is hot and humid, the sense of accomplishment at the end is rewarding. To relax, we indulge in the hot springs, contrasting with a cold beer, at our resort. It's the perfect way to conclude a day that's both challenging and gratifying
Day 9 – From Naga to Daet City
A comfortable shuttle service whisks us away from Panicuason Hot Springs Resort to Daet city, nestled northeast of Mount Labo. We pass through San Fernando, Del Rosario, Tambo, Bagacay, Tara North Centrio, Bicol Natural Park, and Basud before finally reaching Daet. A few small peaks dot the landscape along our route, but none beckon us enough to warrant a climb. The journey takes half our day, and by the afternoon, we've touched down in Daet. With the day still ahead, we scout for a coastal restaurant for a delightful lunch. Post-meal, we retreat to our rented apartment, already looking forward to dinner.
Day 10 – Long Day at Mount Labo
Before sunrise, we embark on our journey to Mount Labo. Motorbikes transport us the initial twenty kilometers to the trailhead. Once registered, we set off on a day-long hike that proves both challenging and mesmerizing. Even with the extended distance and the occasional nuisance of leeches, we triumphantly summit, adding another pristine peak to our repertoire. The return is just as taxing, but our spirits remain high. By evening, we're back in Daet, just in time for a hearty dinner. As the day wraps up, we relish lively banter over glasses of beer in our apartment.
Day 11 – Lengthy Way to Manila
Early in the morning, we hail a tricycle to take us to the Daet bus station. From there, we board a bus bound for Manila. Despite our apprehensions, the journey proves to be surprisingly trouble-free. It is quick, smooth, budget-friendly, and efficient. After enduring a lengthy ten-hour drive, we finally arrive at the Eurotel North EDSA hotel in Manila. While the accommodations are unremarkable, they are up to acceptable standards. Moreover, the hotel's prime location includes a large shopping mall just across the street, which offers a wide array of dining options.
Day 12 – One More Travel Day
This morning, our new guide, Win, greets us in the hotel lobby. He's tasked with coordinating our upcoming hikes on Luzon and Panay Islands. We promptly set off, passing through San Fernando, Angeles, and Olongapo before making our way north towards the coastal city of Botolan. For this leg of the trip, we've opted for the distinctive Frenzel Inn. What makes this inn unique is its peculiar feature: curtains tailor-made for cars. While the reasoning behind this concept piques our curiosity, we quickly acclimate and ensure our comfort for the duration of our stay.
Day 13 – Surprising Pine Forest at Mount Tapulao
before sunrise, we begin our hike to Mount Tapulao and are pleasantly surprised by the unexpected sight of a pine forest en route. After a nine-hour trek, we return to our car and head further north towards Baguio City. On an ad hoc basis, we find a comfortable stay at a Eurotel hotel, where we spend the evening relaxing and unwinding.
Day 14 – Beautiful Dwarf Bamboo Forest at Mount Pulag
We set off in the morning towards Mount Pulag, the highest point on Luzon Island. However, before we can begin our ascent, there are some formalities to address. We make a brief stop in Ambangeg village for registration and a preparatory briefing. Driving a little further to Babalak village, we meet our guide. From there, we embark on a memorable hike through a dwarf bamboo forest all the way to Mount Pulag. After reaching the summit, we begin our descent in the afternoon and eventually return to our familiar accommodations at the Eurotel in Baguio City.
Day 15 – To Panay Island
As we drive back to Manila, we have enough time for detours, and we stop at Marlboro Hill, which we named after the nearest settlement. Later in the day, we board a flight from Manila to Kalibo on Panay Island (5J331). Upon landing in Kalibo, a tricycle is ready to transport us to the cozy Cess Summer Hotel. The day turns out to be tranquil, a much-appreciated respite after the bustling activities of the prior days.
Day 16 – Camping on the Way to the Island Highpoint
Early in the morning, our driver picks us up from the hotel. We begin our journey to the western side of the island, passing through Makato, Tangalan, Nabas, Pandan, Sebaste, before finally reaching the coastal city of Culasi. Once there, we're required to register at the police office, where taking a mandatory selfie is an amusing part of the process. Refueled by a hearty breakfast, we mount our motorbikes and set our sights on the Mount Madjaas trailhead. The vistas along the way are nothing short of breathtaking. However, the ascent soon proves to be a formidable challenge for me. As exhaustion sets in, I find myself weighing my options. I decide to give it a few more hundred vertical meters, promising myself that if there's no change in how I feel, I'd turn back to the hotel. But, in what feels like mere moments, I find myself at the camp. The combination of overwhelming fatigue and the melodies of evangelist songs quickly lull me into a deep slumber.
Day 17 – Chalanging Mount Madjaas
I set out on my hike at 3 am, a full two hours ahead of Rob and Petter. This early start stems from my apprehensions about possibly experiencing the same difficulties as yesterday, which could slow me down. Much to my delight, though, today feels different. I find myself feeling considerably more energized and make my ascent to the summit without any notable hindrances. Rob manages to catch up with me just before the peak, and not long after we begin our descent, we cross paths with Petter. Once back at the campsite, we take a short breather before proceeding to the trailheads where our motorbikes are parked. Timing our return perfectly, we reach the police registration office just as the first shades of evening begin to appear. Our overnight stay is at the nearby LS Suites Hotel — a modest place, but its hospitality stood out a few days ago when the owner kindly let us leave our extra luggage at reception during our Mount Madjaas climb.
Day 18 – Manila One More Time
In the afternoon,we board a flight from Kalibo to Manila (Z2716). Upon landing, Rob and I embark on a mission: "Securing a New Phone for Deividas." Our quest takes us to a sprawling mobile market situated on the top floor of a major mall. After our shopping adventure, we reunite with Petter and indulge in a hearty meal at a Korean restaurant. Later, we check into Alicia Apartment. While the accommodation is on the basic side, it's an ideal choice for cost-saving.
Day 19 – Lights of Doha
Rob and I catch an early morning flight from Manila to Doha (QR935). During our long layover, we make the most of our time. While we don't have enough time to visit Qatar's highpoint, we take a leisurely stroll for a few miles along the coastal promenade. Afterward, we savor a delightful dinner and get to experience the city's mesmerizing "electric light orchestra".
Day 20 – The End
As the evening sets in, Rob and I board our night flight from Doha to London (QR011). After enduring a lengthy layover in London, I then continue my journey, flying from London to Warsaw (LO280), and subsequently from Warsaw to Vilnius (LO773).
Certainly, it's understandable that some of the more mundane aspects, like working during the evenings and nights, were omitted. Overall, this journey stands out as a notable success and a deeply fulfilling experience. The accomplishment of conquering 7 ultra-prominent summits, along with several other less prominent peaks, made our adventure rich in memorable moments. Beyond a few itinerary tweaks, the entire trip progressed smoothly. The country's enchanting natural wonders, paired with its warm-hearted residents, added a special charm to our expedition. The anticipation of future journeys is thrilling, especially when considering the 22 ultra-prominent peaks that remain, not to mention the vast opportunities presented by the p600 and Ribus. Indeed, the vast world of exploration eagerly awaits our next move!
Thanks
I want to express my heartfelt appreciation to Albert and Win. Your assistance with logistics, coordinating local guides, and ensuring our comfort was invaluable throughout our journey. Your pivotal contributions didn't go unnoticed, and i'ma deeply grateful. I look forward with enthusiasm to the chance of reuniting in the future.
A special salute to Petter for your unwavering commitment to providing hiking information and managing transportation details. Without your meticulous efforts, this trip wouldn't have been the success it was.
Rob, your consistent calm combined with your adept hiking prowess was a cornerstone throughout our adventure. As always, having you with us genuinely elevates the experience.
To Dave, although you had to miss this trip last minute, we remain optimistic. We hope our detailed tracks and route insights will serve as invaluable tools when you decide to tackle these peaks.
To all who were part of this journey – your individual and collective efforts made this adventure both memorable and triumphant. A resounding thank you to each and every one of you.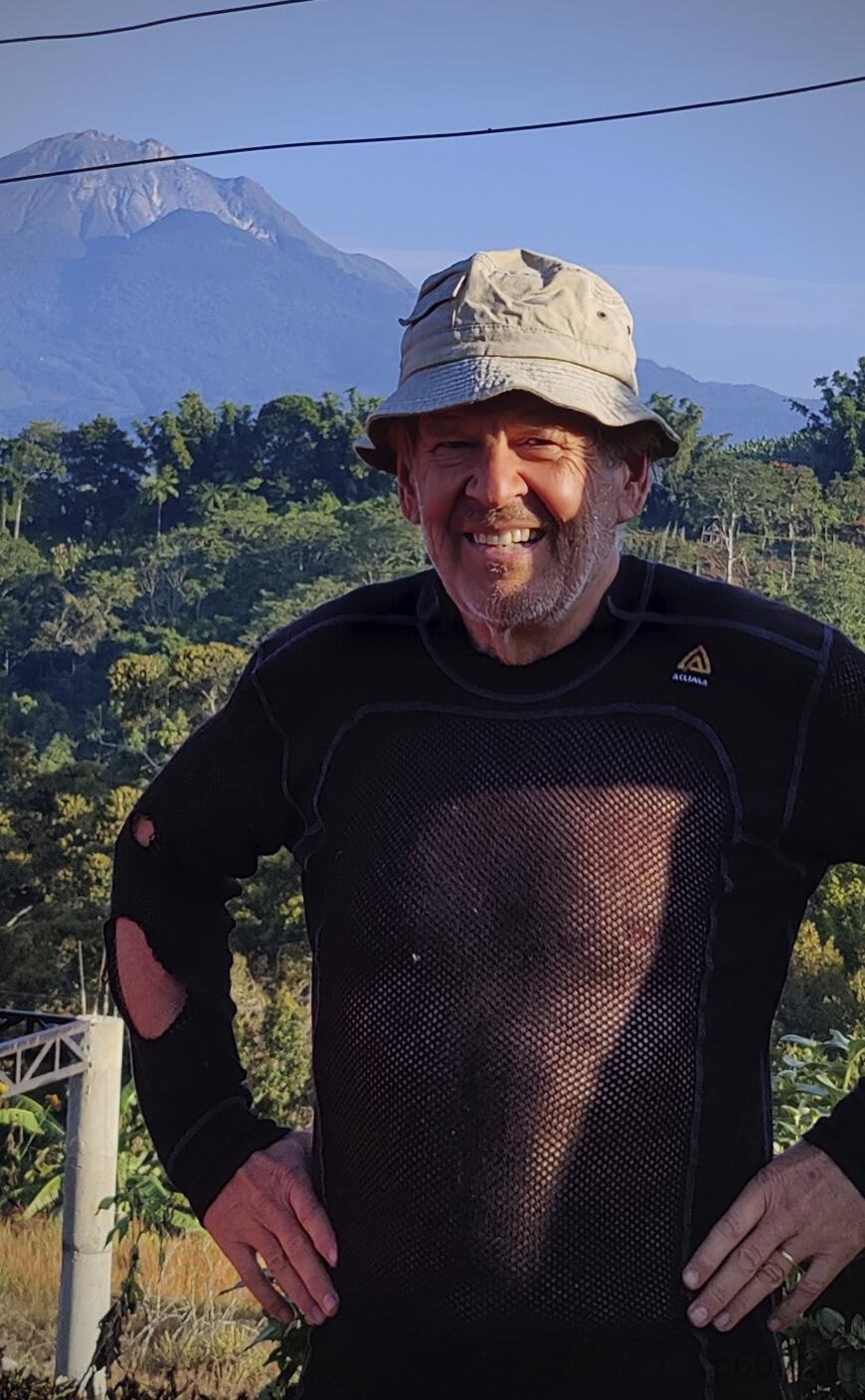 ranges

altitude

prominence

isolation

distance

elevation gain

time

Mount Madjaas
Central Philippines

2117 m

2117 m

149.93 km

24.8 km

2623 m

32h00

Mount Pulag
Luzon

2922 m

2922 m

666.67 km

13.4 km

743 m

4h05

Mount Tapulao
Luzon

2044 m

2022 m

105.54 km

23 km

1560 m

8h40

Mount Labo
Luzon

1544 m

1524 m

73.55 km

37 km

1641 m

12h05

Mount Isarog
Luzon

2000 m

1951 m

55.92 km

17.8 km

1669 m

8h55

Crocodile Hill
Mindanao

179 m

164 m

- km

3.8 km

178 m

1h05

Mount Matutum
Mindanao

2286 m

1950 m

68.69 km

12.7 km

1723 m

8h00

Puting Bato
Mindanao

540 m

540 m

50.57 km

2.8 km

159 m

1h00

Mount Apo
Mindanao

2954 m

2954 m

904.86 km

19 km

1873 m

30h20

Bukit Timah
Malay Peninsula

176 m

176 m

32.90 km

4.6 km

189 m

1h15

158.9km hiked and 12358m elevation gained in 107h25