Our main goal on this trip was to climb ultra and ribu peaks in Nicaragua and Costa Rica. We plan to fill the time between the ultras with P600 or lower peaks. There will be plenty to choose from as we travel along the Pan-American Highway from north to south.
Long flight from Prague to Brussels, then to Chicago, then to Houston and finally to Managua. The Nicaraguan immigration officer at the airport worries a lot about my hotel name, but once I find it and provide it, there are no more obstacles and the rest of the process is quite smooth and efficient. At the airport a driver from the shuttle company with my name on it is waiting for me and we head off to Chinandega. We stop on the way to buy a local sim card and top it up. A few hours later I meet up with Renee and Dave, who had arrived that morning from Honduras, where they had successfully climbed some ultras with Rob and Rockinstraw.
In the morning we drive a bit and start climbing the Volcán San Cristóbal. Perfect weather, nice views of the smoking craters and boring scree higher up. But how nice it was to slide down.
The next ultra on our list is the Volcán Concepción , the most prominent lake-island peak in the world, which we reached by ferry. This is a good opportunity to climb Volcán Maderas, the second peak on Lake Nicaragua. After a beautiful hike in untouched nature, we take the afternoon ferry back to the mainland and drive to Managua.
The third ultra of our trip was Volcán Miravalles in Costa Rica. Good trail to the popular summit and good jungle hike to the true summit. Birds, monkeys and coral snakes.
An innocent hike in the national park to the top of Volcán Barva looks easy… it is, if you don't plan to reach the real summit, which is almost kilometer away from the popular lakeside viewpoint. I am still trying to understand which hike wins the bushwhacking competition – Gunung Marapi in Indonesia or Volcán Barva in Costa Rica.
The next day Dave and I have different plans. He is going to Volcán Irazu, which I visited a few years ago, and I am going to Cerro Chirripó, which Dave visited a few years ago. Forty-three kilometres to Cerro Chirripó and back, starting in the dark and finishing in the dark. I had a great time walking through one of the most beautiful national parks in the region.
Before Volcán Concepción Dave and I head for Volcán Cosigüina, the westernmost volcano in Nicaragua. An easy trail to the tourist point and then a few kilometres off the trail on the ridge to the summit. Later the same day we make a short detour and stop at Las Cumbres.
A shuttle service took us to Liberia in Costa Rica. We also made a short stop at Volcán Masaya. This is the most active volcano in Nicaragua, where people usually come in the evening to see the red lava glowing in the crater. Crossing the border between Nicaragua and Costa Rica was fairly straightforward. We have to walk and queue for a couple of hours, but I still think it's more correct than taking the locals up on their offer of 'express processing' for fifty dollars.
I had planned an extra day just in case the weather was bad or something didn't go as planned, but everything worked out perfectly so I could use the extra day for the bonus summit right next to San José. Cerro Rabo de Mico is a P600 peak with an antenna at the top and a muddy path to get there. Either way, a perfect bonus for a good journey.
On the flight from Brussels to Chicago, I made sure I got a window seat, just so I could see Greenland again. It was a plan that worked. I did a similar trick on the flight from San José in Costa Rica to Newark in US and had an excellent view of the East Coast for most of the flight. I had a long layover in Zürich Switzerland, which I used for a few hours sightseeing along the Limmat river.
Good food in Nicaragua and friendly people are the memories I will take home with me. Of course we had a good time in Costa Rica too, but I have to admit it has got quite expensive in the last few years. I really wish them the best of luck and hope that one day they sort out their car rental and insurance policies and pricing strategies. Nevermind, looking forward to the trip to West Africa in early February.
I had the pleasure of meeting Renee and Dave in Nicaragua. It was great to bond and climb a San Cristobal summit together. Unfortunately, most of the other peaks were climbed by Dave and me alone, but I look forward to more adventures with them in the future. I am very grateful to everyone involved in making this trip possible and to Dave for taking the initiative to organise it.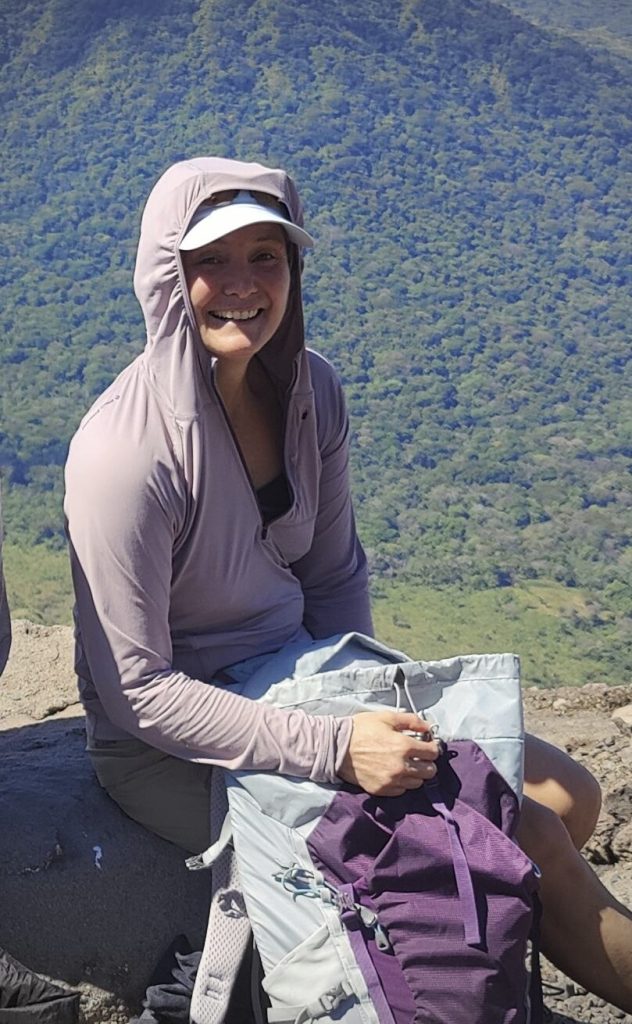 ranges

altitude

prominence

isolation

distance

elevation gain

time

Cerro Rabo de Mico
Costa Rica-Panama Ranges

2428 m

768 m

13.66 km

5.4 km

362 m

1h50

Cerro Chirripó
Costa Rica-Panama Ranges

3819 m

3755 m

877.41 km

43 km

2848 m

18h30

Volcán Barva
Costa Rica-Panama Ranges

2906 m

1406 m

28.38 km

12.6 km

316 m

4h30

Volcán Miravalles
Costa Rica-Panama Ranges

2028 m

1528 m

99.01 km

13.4 km

1491 m

7h30

Volcán Masaya
Central Central America

632 m

189 m

6.85 km

3.9 km

81 m

0h55

Volcán Maderas
Central Central America

1394 m

1354 m

15.01 km

15.6 km

1232 m

6h25

Volcán Concepción
Central Central America

1610 m

1579 m

69.43 km

11.2 km

1452 m

6h20

Las Cumbres
Central Central America

950 m

670 m

38.52 km

0.04 km

1 m

0h03

Volcán Cosigüina
Central Central America

859 m

828 m

43.27 km

8.7 km

309 m

3h10

Volcán San Cristóbal
Central Central America

1745 m

1665 m

115.24 km

9.8 km

1254 m

6h40

123.64km hiked and 9346m elevation gained in 55h53